Getting back on skis
Getting back on skis
I've often heard people say, 'I love to ski,' or 'I live to ski!.' For me 'I ski to live.' It brings me relief from stress and joy of being alive. In January 2010 I went skiing with a friend that admittedly was far above my ability.  He was a world champion, while I was an advanced intermediate. I do not blame my friend because I was feeling a bit bold and cocky. I had finally learned the art of floating! I let myself be pushed out of my comfort zone and right off the face of a 2,000 foot cliff.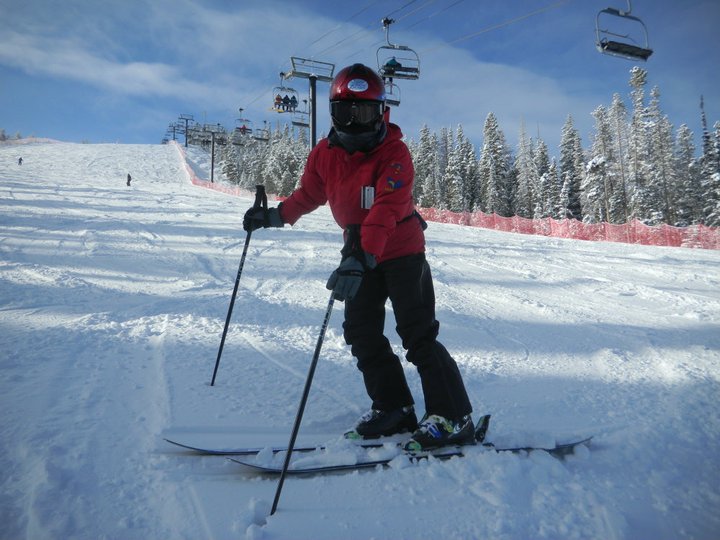 It was a lot like living through a slow-motion nightmare as my friend tried to stop my slippery slide while hanging on to a tree. Gravity sucks and it did a number on us. I couldn't hold him and he couldn't hold me and I slide over the lip and then cartwheeled my way downhill over 500 feet.
I tumbled like a rag doll and felt fortunate and blessed when I was able to walk away without any major injuries. In fact I skied (and fell again) the next day. Fortunately that was a minor fall compared to the day before, but it was enough for me to admit, I had gotten hurt and had lost my strength. I needed to take time off and heal.
In October 2011, after fighting chronic pain in my hip for more than a year, I discovered the truth of what happened that day in Utah. I had torn the labrum in the hip in multiple places, bruised the bone, been eaten up by arthritis and… well. it was grim. My knees were in almost as bad of shape. The injuries may not have crippled me at the time, but over time, they did.
I was told by two orthopedic specialists I would have to have both knees and my left hip replaced. They could not be fixed.
This blog is to tell you that is a lie. This is the story of my journey to heal my body without drugs or surgery. I have no medical knowledge beyond my own research and understand that what worked for me, might not work for you or someone you know and love. But it worked for me and I am happy to share.
I look forward to sharing my story and helping you learn more.