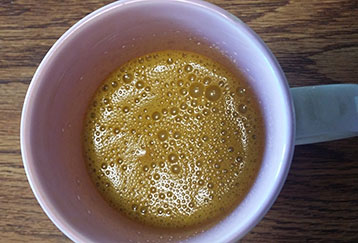 For more than a year my Acupuncturist has been advising I drink Goldenmilk to help with my healing and reduce inflammation. At first I read the instructions and decided it was going to be too much trouble and I figured I would likely have to choke it down. The reality could not be further from the truth. It did take a bit of effort to make my first batch because I had to collect some of the items required because I don't normally have coconut milk in my kitchen, or ginger root. I do however use Turmeric in my cooking so had a good supply of that. I found a recipe that kept popping up on my Facebook post and decided one day to give it a try. I am soooo very glad I did. This is now my favorite morning and evening drink and I am feeling amazingly better since I started this regime. Here is the recipe.
Start by making a Tumeric Paste
1/2 c water
1/4 c turmeric powder in sauce pan….stir 7 to 10 min. until a paste….then put in a sealed container and put in fridge up to 2 weeks
Next, make the Goldenmilk:
In a saucepan add
2 cups Coconut or Almond milk
1 tsp cinnamon
1 tsp coconut oil
1 tsp to 1 tbl. of turmeric paste
1/4 tsp chopped ginger
4 to 6 black peppercorns dash of honey or stevia
Combine and heat over low heat for 8 to 10  minutes. Pour through a strainer to remove the peppercorns and ginger. You can add a dash of cinnamon and drink. I drink about 1/2 cup morning and evening and store the rest in the fridge. Just warm up, add a dash of cinnamon and enjoy! Yummy.
[youtube https://www.youtube.com/watch?v=qkk8PyomEtA]